Articles in the January/February 2021 Issue of CONECA's ErrorScope include:
Master Numbering List
By James Motley
As of November 23, 2020 the non profit Error and Variety organization CONECA, reorganized how it administers its Master Numbering List of error and variety coins and is creating a new management system for cataloging and submitting coins for consideration.
Membership News
By Maria Rickert-Kittell
A warm welcome is extended to all of our new CONECA members! CONECA now has over 800 members worldwide
Congratulations to Andrew Dao, recipient of the Romeo A. Maynard Scholarship for Young Numismatists recommended through the American Numismatic Association
________
1924 Peace Dollar VAM5A
By John Cava

Wing break
The newest Top 50 Peace Dollar in my collection is the 1924 VAM 5A called a Wing Break. In my opinion, this is a very spectacular VAM. It is very apparent to the naked eye what is going on. Simply put, it has a large circular die break in the middle of the eagle's wing on the reverse.
Have You Ever Purchased A Detailed Coin on Purpose?
By Patrick Jenkins

I ask this question as in the over 50 years I've collected I always tried my best to avoid problem coins. Yeah like you, if you're being honest like the rest of us, you made a mistake buying or selling a coin.
Fall 2020 PAN Show Update
By James Zimmerman

Being that I live only an hour from where the Fall 2020 PAN (Pennsylvania Association of Numismatist) Coin Show was being held in Monroeville, PA (Pittsburgh Suburb), I contacted the show chairman about donating table space to our club to promote the error hobby as well as our club. PAN was gracious to give us free space for the three-day event that started Thursday October 29, 2020.
Treasures Among Treasure New Error Coins Discovered with No Value Other Than an Important Message
By Dr. Ron Brown

September 9th 2020 brought a very harsh and bitter lesson about coins and their storage. I have always written about coins I own and this time it is no different – howbeit a sad epitaph about precious variety and error coins.
About 8 PM on the 9th of September my home and all our belongings along with two autos were destroyed by wildfire in the now infamous Bear Fire of Berry Creek and Oroville CA.
Coin Show Exhibits
by John H. Miller Jr.

Have you ever put together an exhibit to show at a coin show? Do you wonder what you get if you do?
Multiple Struck Mint Error Coins
by Denny Polly

1941 Jefferson Double Struck, 2nd Strike 70% Off-Center @ K-10 and Struck Thru Scrap on Obverse, DSR, UNC
One of my favorite mint error coin types is coins that have been struck more than once. They can be Double Struck, Triple Struck, or more. There are many variations of Multiple Struck Mint Error Coins.
Coins That Are Considered Mid Year Die Change Part Two: The Nickel
by John H. Miller Jr.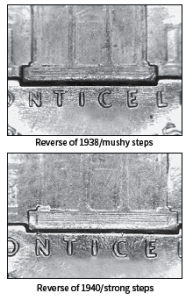 In this issue the coins we will be taking a look at will include:
• 1939 Philadelphia, Denver, and San Francisco Reverse of 1938 Nickels
• 1982 Philadelphia and Denver Reverse of 1977 Nickels
Young Numismatists Program
By Logan Wostyn
Hello Everyone
I have 2 packages headed out for the mail for the 2 kids that responded last month. They will be receiving a few error coins. Remember I have error coins, loupes and scales to send out as prizes and I always send more that 1 item. Come join the fun and send me an email.
This issue I'm thinking a of a short quiz. Name the State Quarters that have known errors and what the errors are. As usual those that respond correctly will receive a package from me with error coins.
Hope everyone stays safe.
Your YN Director
Logan Wostyn.
Cuve's Error-Variety-Clash Round Up 13
By Jason Cuvelier

It took me an unusually long time to locate a counter clash on this clashed no date medallion depicting the White House and the Seal of The President.
________
Read all of these Errorscope articles and more by logging onto your online CONECA account or become a member today to enjoy the latest issues.
CONECA members who need a login username and password to access the Errorscope Online Members Only area, should email the Membership Coordinator, Maria Rickert – Kittell. A valid email address on file with CONECA is required for access to current and back issues of the Errorscope online.
Donations to CONECA
CONECA is a 501 (c) (3) tax – exempt charity and public supported organization as defined in
sections 170 (b) (1) (A) (vi) of the Internal Revenue Code. Donations to CONECA are tax-deductible to the extent allowed by law. Federal ID #46-0343568.
Mail Donations To: CONECA Treasurer – 472 Cherry Lane Rd., Friedens, PA 15541