J.T. Stanton, 1952-2018

A note from his longtime co-author Bill Fivaz yesterday announced the passing of J.T. Stanton of Georgia. Here's an excerpt with Bill's permission. -Editor
With deepest regrets I must inform you that my dear friend J.T. Stanton passed away this morning after about 10 days in the hospital. J.T. had taken a couple falls recently, had some severe health issues (heart, kidney, breathing, etc.)
A viewing will be on Monday, October 22 at 11 AM at the Radiant Life Christian Fellowship Church, 5619 Skidaway Rd., Savannah, GA 31406 and the funeral at noon. In lieu of flowers the family has requested that donations be sent to The Wounded Warrior Project, P.O. Box 758517, Topeka,KS 66675-8517.
Additional info: J.T. was born on March 5, 1952 in Macon, GA and was a professional printer early in his career. He loved golf, baseball, photography, wildlife and numismatics and had a deep appreciation for the military, thanking them for their service whenever he saw servicemen or servicewomen. He was married to his wife Susan for 38 years and had two sons, Jeffery and Jamie as well as two grandsons and a sister, Barbara.
He was also the co-author with Bill Fivaz of the best selling Cherrypickers' Guide to Rare Die Varieties book, now in its sixth printing and truly enjoyed sharing his vast knowledge with other collectors. He taught courses at the ANA Summer Seminar for many years and was well respected by his peers throughout the hobby, winning many awards throughout his life.
J.T. loved research and photographing coins. His expertise provided countless high quality photos of new varieties to the numismatic public who would otherwise not been aware of the new discoveries. J.T. was truly one of the "good guys" and shall be greatly missed, but his legacy shall live on long after his passing.
J.T. was elected to the CONECA Hall of Fame in 2003. The photo above and text below is taken from the web site of the Combined Organization of Numismatic Error Collectors of America. -Editor
J.T. Stanton has proven with over a decade of service to both CONECA and the Error-Variety hobby at large that he deserves to be the next inductee into the CONECA Hall of Fame. J.T.'s loyalty to the club has never been in doubt. He has donated not only time and coins, but also money and professional services, and has done it all with an attitude of humility characteristic of the Southern gentlemen he is. I am proud to call J.T. a friend, a confidant, and in many ways a mentor. He demonstrates with bold colors the essence of what the CONECA Hall of Fame stands for: a lifetime of service to CONECA and the EV Hobby above and beyond the call of duty.
His CONECA honors include: 1. Charter member of CONECA (1983 – present), 2. Two years service on the Board of Directors (1985-1987), 3. Four years service as President of CONECA (1987-1990), 4. Doubled die attributer (1989-1991), 5 The Lonesome John Devine Photography Award (1992), and 6. The Lyndon King Award (1992).
His American Numismatic Association (ANA) and hobby-wide honors include: 1. instructor for the ANA Summer Seminar class on "The Modern Minting Process/Errors and Varieties" (1990-1999), 2. ANA Outstanding Adult Advisor (1992), 3. Numismatic Ambassador Award (1993), 4. ANA Presidential Award (1995), 5 two years service on the ANA Board of Governors (1995-1997), 6. The ANA Glenn Smedley Memorial Award (1997), 7. ANA Presidential Award (1998), and 8. ANA Medal of Merit (2000).
For more information on CONECA, see:
https://www.conecaonline.org/
Bibliophiles may also know J.T. as the founder and longtime operator of Stanton Books & Supplies. -Editor
Dave Lange writes:
Most people know J.T. Stanton solely as a name on the cover of The Cherrypickers' Guide to Rare U. S. Die Varieties, but to me he was a good friend and collaborator. When he and co-author Bill Fivaz were still the editors/publishers of the CPG we would share discoveries and varieties that made each subsequent edition a little more accurate and comprehensive. The level of cooperation was so great that Bill and J. T. even dedicated one of those editions to me, an honor I still treasure.
We also had some great times as instructors and after-hours buddies at the ANA's annual Summer Seminar and conventions. Though not that long ago, it was a different time in the hobby culturally, and now that everything is so thoroughly copyrighted, trade marked and branded the easy sharing of facts and photos has largely passed. Yet, the memories remain, and I will miss my old friend very much.
CONECA Hall Of Famer Lee Gong, 1950–2018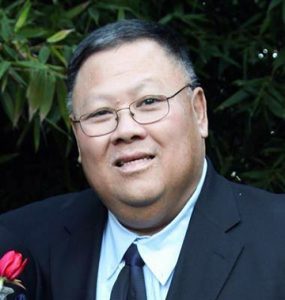 We sadly announce that CONECA Hall Of Fame Inductee, Lee H. Gong has passed away. Lee was inducted into the Hall of Fame in 2016 for which I had the honor of nominating him. He was a charter member and long-time CONECA supporter who quietly worked behind the scenes promoting CONECA at many coin shows and he was CONECA's ErrorScope back-issues manager since 2002.
From the CONECA Hall of Fame induction:
"Lee got interested in error coins when a neighbor whose husband worked at a bank offered to trade him a silver 50 cent piece blank for some Buffalo nickels he had. He joined both the Collectors of Numismatic Errors (CONE) and the Numismatic Error Collectors of America (NECA) in 1969 and transitioned to the Combined Organizations of Numismatic Error Collectors of America (CONECA) when the two clubs merged in 1983. He's been an avid collector and tireless promoter of CONECA and the error and variety hobby ever since.
Lee served as the CONECA Youth Director for six years. He won the CONECA Outstanding Member Award in 1999. He won the CONECA Kenny Knapp Grand Slam Award in 2011 for recruiting more than 100 new CONECA members. And, he's been the Errorscope Back Issues Manager since 2002.
But, Lee is most proud of his service to the club and the error and variety hobby as what he calls a "behind the scenes guy" – promoting the club and the hobby at local, regional, and national shows, and mentoring young numismatists in the 14 coin clubs to which he belongs – including the Redwood Empire Coin Club in his home town of Santa Rosa, California."
The following was published online in the Press Democrat (Sept 27th – 29th issue):
"Lee H. Gong passed unexpectedly on September 21, 2018. He moved to Stockton and later to Santa Rosa in 1963 and immediately became involved in the family business of G&G Supermarkets. He attended and graduated with Piner High School's first graduating class. He played on the baseball team and later in life he became the head baseball coach for Santa Rosa Christian School, he assisted with Piner's fund raisers for the football field lights. He served in the Navy from 1969-1973, stationed at the Naval Photographic Center Washington D.C. and Harbor Clearance Unit Two, Norfolk, Va.
Afterwards he re-joined the family business in 1973. He oversaw the Meat, Deli and Bakery departments. He forged many lasting relationships through the years by the many marketing ideas and events he implemented which gained local and national recognition. He was a board member on the Deli Council.
His hobbies and interest included baseball, bowling, fishing, golfing, international hunting trips, trap shooting, collecting coins, antiques, and model trains. He became the long serving Vice President of the Redwood Empire Coin Club and Youth Director. He was passionate in creating youth interest in the coin collecting. He prided himself on visiting every MLB park, enjoyed many road trips, lunches and dinners with friends, business associates and family. During his retirement, his pride and joy was his family and grandsons. Lee was a true friend who offered his help to all who needed it. He was a wonderful mentor and gave great advice from the years of wisdom and experience. Lee will truly be missed by all.
Lee was pre-deceased by his father Gee Kai Gong and mother Fong Gong (two of the three founders of G&G Supermarket), sisters Carrie Gong Lowe and Betty Gong, brother-in-law Eddie Doe. He is survived by his beloved wife, son, daughter-in-law, and grandsons. By his brothers: Dick Gong and his wife Vivian, Don Gong and wife Darlene. His sisters: Sau Kwan Doe and Dorothy G. Parker (Richard). By his brother-in-law Robert Lowe. He is also survived by many nieces and nephews: Jason (Cindy) Gong, Melissa (Brad) Quon, Brian and Matthew Gong, Howard (Jean) Doe, Jackie (Michael) Tong, Damon Doe, Carol (John Drake), Connie (Mike Petersen), Jodie (Albert) Lau, Teejay (Jamie) Lowe and Kimberley (Jason) Cosner. He also had many great-nieces and great-nephews. In lieu of flowers, memorial donations can be made to: Redwood Empire Coin Club, Youth Program, P.O. Box 9013, Santa Rosa, Ca. 95405; Piner High Foundation, 1700 Fulton Road Santa Rosa, Ca, 95403; American Heart Association, www2.heart.org . Cards can be sent to Lee Gong's Family, 1007 West College Ave. #216, Santa Rosa, Ca. 95401. Visitation will be held on Friday, October 5, 2018 from 3:00-8:00 p.m. at Daniels Chapel of the Roses, 1225 Sonoma Ave, Santa Rosa 707-525-3730. Friends are invited to attend a Celebration of Life on Saturday October 6, 2018 starting at 12 p.m. at Friedman Events Center, 4676 Mayette Ave, Santa Rosa."
Paul Funaiole

Glenburn – Paul F. Funaiole, 79, passed away peacefully in his home on July 4, 2017. He was born July 15, 1937, in Townsend MA, the son of Walter and Lillis (Howlett) Funaiole.
After his High School education Paul enlisted into the Air Force. He served two tours of duty in Vietnam during the war. After retiring from the Air Force, Paul continued his career working for the Federal Aviation Administration, retiring in 1992. He was an avid outdoors man, and loved to travel.
Paul was well known by many CONECA members, having served as our membership chairman for several years.
Services will be private for the family.
Jose Cortez

The family of Jose' Cortez had advised us of the sad news that he passed saying, "Our family is deeply saddened to inform you that our Father W. D. Staggs also known as Jose' Cortez passed away last night 10/12/16 at 10:12 PM from complications of Alzheimer's, thank you all for your prayers."
   Jose' was a huge contributor to the variety hobby working closely with James Wiles and John Wexler to create a web site http://dbldeye.tripod.com dedicated to Washington quarter doubled dies, RPMs and OMMs years before anybody else did.
 Jose' retired from Hostess Brands, Inc., was an animal lover and made custom Indian jewelry. He had been ill for a number of years.   May he rest in peace.
Robert Charles Wilharm
Robert Charles Wilharm and his wife Mickey
On September 29, 2016 Robert Charles Wilharm, a founding member of CONECA
and a major force in the error and variety hobby passed away.
We mourn his loss and offer our condolences to his family.
Myrna Lighterman Passes at 85 Years Young

Photo courtesy of John Wilson
She was a proud member of:
Women In Numismatics
Hobo Nickel Society (Original)
FUN
ANA LM
CC&GTCC (Casino Chip & Gaming Token)
Along the way she was decorated with several High End awards such as:
ANA Presidential Award (Jan 2001)
Numismatic Ambassador (2008)
ANA Glenn Smedley Memorial Award (2008)
ANA Medal Of Merit (2012 with her son Mark Lighterman)
"Myrna was one of those people that lit up a room with her wit and presence.  
She certainly left a lasting impression on me. Myrna, you will be missed."
—James Motley
"Myrna was one of the most fun persons for me to be around and I always
looked forward to seeing her when I could make it to an ANA Convention.
She will be missed by me and so many of her other friends"
—Ken Potter
Len Roosmalen
Combined Organizations of Numismatic Error Collectors of America (CONECA) Charter and Life Member Len Roosmalen died on May 7, 2014 in Wisconsin at the age of 84.
Len was a collector for 50 years and a full-time dealer specializing in error and variety coins for 26 years. From 1979 to 2003 he owned Len's Coins and Stamps in Madison, WI, and for 14 years he conducted a bi-monthly mail-order auction consisting exclusively of error coins. In 2003 he sold the business to Jim Essence, but remained associated with the business which is now called Jim's Coins.
Len was active in CONECA – serving seven years on the Board of Directors (1984 and 1985 and 1990-1994), conducting 76 auctions as the club's auctioneer, and serving as Errorrama Chair twice (1987 and 1990). He won the club's first Kenny Knapp Top Recruiter Award in 1987 and reached the 50 member recruiting milestone in 2002. He won the Lyndon King Outstanding Member of the Year Award in 1988 and 1993. And he was inducted into the CONECA Hall of Fame in 1994. Len was a life member of the American Numismatic Association (ANA), winner of the Glen Smedley Award (for his enthusiasm for the hobby), and a frequent exhibitor at ANA conventions – winning 1st place in the Errors Division for five years in a row (1977-1981). Most importantly, he was always willing to pass on his knowledge, good humor, and kind spirit to other numismatists.
Len served in the Army special forces and retired as a Major. He was preceded in death by his wife Shirlee, and is survived by his three children, five grandchildren, five great-grandchildren, and his dog Rambo.
Delma Romines Passes
by Bill Fivaz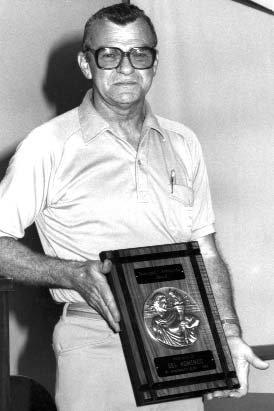 Image courtesy Numismatic News.
Delma K. Romines receiving the Numismatic Ambassador
Award from Numismatic News at the 1988 ANA Convention.
Delma ("Del") Romines, 77, passed away on Tuesday, October 1, 2013 in Louisville, KY. Del was one of the foremost researchers and writers in the numismatic hobby, specializing in die varieties. He has many major discoveries credited to him and was always willing to share his knowledge with other collectors, especially YNs.
Del was born in Slick Rock, KY on Nov. 8, 1935, and was married to Joyce Smith Romines for 42 years. He was a retired working instructor for Naval Ordnance, a position that served him well in his research of how metals worked.  He produced hundreds of specialized tokens and medals which center around numismatics. He was a veteran of both the Korean conflict and the Vietnam war.
Among Del's special interests was the area of Hobo Nickels, in which he did extensive research and authored two books on the subject.
In lieu of flowers, the family has requested that donations be made to Kentucky-Indiana Hosparus, 315 East Broadway, 6th Floor, Louisville, KY 40202-1703
An Autobiography by Del Romines
I became involved in varieties and errors at the age of nine in 1944. Discovered the first 1943/2-P Jefferson in 1948, the first 1944-D/S Lincoln around 1949, and the first 1942/1-D dime around the same time. About 50% of all known double hubbed die coins through the fifty cent pieces were discovered by me. Possibly as many as 25% of all known RPMs through fifty cent pieces were discovered by me. I have authored seven numismatic books, of which three have been published, and four are basically finished but not yet published. I have conducted YN seminars across the nation, and have touched possibly as many as 300 YNs through these seminars.
My wife, Joyce, and I have donated several thousands of dollars to these programs through travel and lodging expenses, materials and coins donated, and several small booklets which were printed for each of the seminars. Some TV appearances have been made (1/4 to 1/2 hour programs) on WTAE-TV in Pittsburgh, PA promoting numismatics.
Possibly one of the most notable accomplishments was a nine-year die state study which was probably about 90% complete and accurate. The study was so impressive that the U.S. Mint purchased two sets of the study, and I was told that the study was used to improve the quality of the U.S. Mint sets starting about 1990.
Even though I am becoming physically incapable of conducting YN seminars, I still spend several hours each week with local YNs, and am always available for all numismatists across the nation for information and assistance.
Error-Variety Hobby Loses A Pioneer …
Alan Herbert
1926 – 2013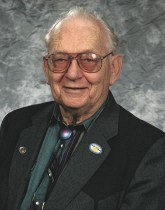 Alan Herbert, 86, of Belle Fourche died Saturday, January 19, 2013 at the Fort Meade Veterans Hospital. Alan (Masslich) Herbert was born in Chicago on June 13, 1926. He moved to New Hampshire at the age of 6. After his mother, Martha, remarried, he was adopted by his step father, Willis Erwin Herbert. Following high school he entered the Army in September 1944. After basic training at Camp Joseph T. Robinson in Arkansas, he served with the 15th Army Artillery in Europe. He remained in Germany until 1948 before marrying Liselotte Schellenberger and returning to the U.S. He operated the Fort Bragg, NC hospital radio station until his discharge in 1949. READ THE ENTIRE OBITUARY >>>
A Giant Amongst Giants …
My Memorial To Alan Herbert
by Ken Potter

Alan Herbert at CONECA's 2011 Errorama Banquet
In 2002 Alan Herbert asked me to write the Foreword to his 6th edition of The Official Price Guide to Mint Errors (a honor that he asked me to repeat for his 7th edition).  As a memorial to him I'd like to present what I said about him then for all to read now as every bit of it still holds true.
Foreword (To Alan Herbert's 2002 6th Edition of The Official Price Guide to Mint Errors)
In the face of decades of ignorance on the true causes of minting variety coins and intense ridicule from fellow hobbyists who perceived the collecting of these "curiosities" as a bit odd, the hobby continued to thrive and enjoy steady growth. In recent years its popularity has even surpassed the phase of being "trendy" and the hobby has become "respectable" in virtually all quarters.
Today professional grading services what wouldn't touch a mint variety [error] in the past have jumped on the bandwagon and vie with each other to offer "variety and error coin attribution services," while promoters of major conventions woo the Combined Organizations of Numismatic Error Collectors of America for the presence of their annual Errorama celebrations!  Major auction houses that just a few decades ago essentially shunned error coins now solicit their presence and highlight them in their sales, while major dealers who previously regarded error and variety coins with scorn now enshrine them in professional certification holders and tout their attributes of grade, rarity, value, and desirability.
There is no doubt that a larger part of the error and variety hobby's growth and acceptance can be directly attributed to the landmark works of Alan Herbert.
In 1979 I discovered a variety on the obverse of a Canadian dollar coin.  This variety made headlines in the numismatic press and catapulted me right into the midst of an area of specialization to which I was virtually ignorant but to which I'd become hopelessly hooked forever.  Eager to learn more as quickly as possible, I obtained a used copy of Alan Herbert's 1974 first edition of The Official Price Guide to Mint Errors and quickly graduated to a new copy of the 1978 second edition.  These books opened up a new world of collecting possibilities that for me eased the boredom of mainstream date-and-mintmark collecting.
From that point on I eagerly read everything I could possibly put my hands on that offered me a greater understanding of my newly discovered, wonderful world of numismatic errors and varieties.
Herbert's name was seemingly everywhere; he could be found penning columns and/or feature articles in Numismatic News, Error-Variety News, Coins Magazine, Coin Prices Magazine, World Coin News, Banknote Reporter, the CONE/CONECA ErrorScope, and others.
In 1979 this giant amongst giants seemed to me to be unapproachable.  After all, how could a man this busy possibly have the time to talk to me?  To my surprise he made the time, and throughout the years has offered his advice and expertise in all areas ranging from the error/variety coins themselves to the how-to's of coin photography. Today I regard him as the most influential individual who has helped me with my writing and research in this area.  Due to his persistent efforts to continually update, refine, and correct hobby information throughout all the previous editions of all his books and his other works, Alan Herbert continues to stand tall as a giant in this hobby, and this book will undoubtedly educate and delight new generations of collectors well into the 21st century. #
In closing I'd like to say that the last time I saw Alan Herbert was at the 2011 ANA Summer Convention in Chicago.  He spent a lot of time at the CONECA table and we spent hours chatting about the good old days and current events.  When he reached into his pocket to purchase a ticket for the CONECA Banquet (as he had always done in previous years) I insisted on paying for it myself.  It was my honor – a very small way of saying thank you for all he had done for me.
Since I was the CONECA officer that manned the CONECA table the majority of the time, dealers and grading services often sent folks over to me to get an opinion on a suspect coin .  Time after time when somebody came to the table and asked for "Ken Potter" I often told them that he was "out to lunch" but that his mentor, the man that tutored him from the very start up to and including the how-to's of the photography set up that was sitting on the club table was there to answer their questions.  I introduced them to Alan and had him take the reigns.  I could see he was enjoying examining coins and expressing his opinions.  After he was done I always told the visitors "by the way — I'm Ken Potter."
Alan and I got a big kick out of this and it was a lot of fun (and some might argue that I'm "out to lunch" most of the time anyway).  While there is no doubt that I felt honored standing within the shadow of this giant I did not realize just how much the tiny things we did and said at that table would mean to me today as I wiped the tears from my eyes.  To me, Alan Herbert is and will always be my hero in this hobby.  I and CONECA will miss him dearly and cherish the time we had with him.  RIP Alan!
Variety Specialist John Bordner Passes
by Al Raddi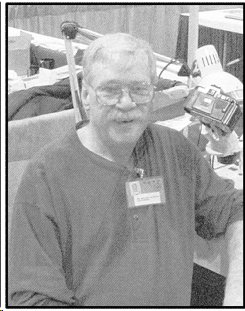 January 20, 2013—John W. Bordner died on January 11, 2013 after an extended and courageous battle with lung cancer. He leaves behind three daughters as well as his wife, Ivy, and their young son, John, Jr. (J.J.)
John was a coin collector for over 60 years and a serious variety researcher for the last 20 years. He was the co-founder of the National Collectors Association of Die Doubling (NCADD), principle author for its two newsletters: "The Hub" and "The Punch", and the co-author of two books: The Comprehensive Guide to Lincoln Cent Repunched Mintmark Varieties, Volume 1: Wheat Cents 1909 to 1939 and The Comprehensive Guide to Lincoln Memorial Cent Repunched Mintmark Varieties 1959.
I corresponded with John for years and he attributed hundreds of the repunched mintmark Lincoln Cents in my collection. So, I knew he was an ardent examiner and attributor with a keen eye and memory for detail. I read everything he wrote and had the honor of writing the forward for his second book. So, I knew he was a clear and well organized writer as well as a skilled coin photographer. And, after visiting John last May and sipping coffee and talking with him at his kitchen table while Ivy played with J.J. nearby, I knew he was a humble gentleman who loved his family.
The error-variety coin collecting hobby has lost a fine researcher and a fine man.
Error Specialist, Numismatic Author and Error Coin Pioneer Eric von Klinger Passes
By Mike Ellis

August 22 of this year was yet another sad day for me. On this day my good friend and good friend of CONECA Eric von Klinger died after a long battle with cancer. Born on October 8, 1946 in Wilmington, Ohio, Eric died at 66 after spending most of his adult life working as a journalist, including a numismatic journalist since 1993 which is about when I met him.
From 1993 to 1996 he was an associate editor for Numismatic News and a writer for Coins magazine, both publications of Krause Publications of Iola, Wisconsin at the time. From 1996 to 2002 he wrote and edited for general daily papers before returning to numismatic writing for Coin World of Sidney, Ohio as a columnist writing the "Readers Ask" and "Collectors' Clearinghouse" columns in 2002. These columns were perfect for the longtime CONECA member. He loved error and variety coinage and the mysteries evolving from the minting processes over the years. Health had much to do with his retiring from Coin World in 2008.
During the years 1997 – 2002 and since 2008, though he held no major writing positions in numismatics, he did not leave the hobby. We maintained communications just as any good friends would. And he remained a hobbyist as well. We spent many hours talking about coinage, its origin and evolution in person and through email. However, we probably spent even more time "solving the world's problems" as anyone who knew Eric well knew he was apt to do. We did this because Eric was very caring, often times in a funny way. He had a great sense of humor.
Eric began collecting the year I was born, 1959, and became a charter subscriber to Coin World the following year. Though he loved error coinage he also loved tokens and medals with civil war tokens among his favorite.
As a professional, von Klinger graduated with a bachelor's of English degree from Miami University of Ohio. He is survived by a former wife, Shawnee (Mark) Culbertson and was interred in Sugar Grove Cemetery in the town of his birth, Wilmington, Ohio. Like all those pioneers in the error and variety hobby who we have lost throughout this year and last, he will be greatly missed. Goodbye my friend and I hope to laugh with you again when it is my turn. I am sure I will.
Another Error Coin Pioneer Passes …
Lonesome John Devine
1933-2013
Memorial by Ronn Fern & Ken Potter

Lonesome John at ANA in 2005
John P. Devine, a founding member of the Combined Organizations of Numismatic Error Collectors Of America (CONECA) and the first inductee into the CONECA Hall of Fame, passed away on July 10, 2013, just a few months short of his 80th birthday. He was a husband, father, grandfather, great grandfather, entrepreneur, mentor, teacher, hobbyist, and friend. He created the Error Coin Museum, which was the umbrella under which the Collectors Of Numismatic Errors (CONE) and the Numismatic Error Collectors Of America (NECA) were able to merge into CONECA in 1983.
John's wife, Peggy, is also a CONECA Hall Of Famer, a former CONECA Errorscope Editor and Board Member.  John first met her in Harrisburg, Pennsylvania while she was walking home on the Walnut Street Bridge over the Susquehanna River. He tried to pick her up and she didn't accept the ride but did give him her phone number. The rest is history! John had the ability to pick good ones even then. John and Margaret "Peggy" Elizabeth Ewing eloped on June 6th, 1953 — 28 days after the attempted "pick-up on the bridge" incident. They were married in Towson, Maryland.
They had three children, all girls; one passed shortly after birth. Stella (who would later do a stint editing the Errorscope) was born in 1960 and is married to Rick Knight. They have three college aged boys, Sean, Aaron and Ben.  Their daughter, Brenda was born in 1962. She has two boys, Cody and Travis. Cody is in the Army in Dubai, and Travis lives with his wife Kristin and son Aiden in Nevada.
John was preceded in death by his parents, Kieran Agustus and Dorothy Ruth Devine. His sister, Nancy, passed away a few years ago.
John served in the Air Force and had just finished his tour of duty when he met Peggy. In Pennsylvania, there weren't many good jobs. He drove a milk truck, painted cars at the DeSoto dealership, drove a Canada Dry truck, and worked at Jackson Manufacturing making wheel barrows.
John knew there were many jobs in California, so they sold much of the little they had, piled the rest in their '47 Olds convertible and took off for California in a snowstorm! There, he worked for Douglas Aircraft from 1955 to 1960; then Rocketdyne; a short stint at what is now Northrop Grumman Corporation, and a couple of years as an Industrial Engineer at Burroughs.
John had always been interested in coins since he was a kid and met John Burrison at the Conejo Valley Coin Club shortly after he and Peggy moved to Newbury Park, California. He also connected with Duane Spellman through the club.
In the early 1970s John Devine and John Burrison formed a company called John-John Specialties. As I recall, Burrison worked as a co-pilot/navigator for a major airline. This gave them the opportunity to visit many area coin shows and dealers where the flights were scheduled, allowing them to add to their error coin stock. Devine's residence was the home base and he put the error coin catalogs together and sold mainly through mail order. There were many layoffs in the engineering field during this time and Devine felt he needed to find more stable employment. Burrison lost interest in the hobby so Devine ended the relationship and started his own error coin mail-order business out of the family's dining room. Spellman suggested the name of "Lonesome John" based on the fact that he was to become the first (and lone) full-time error coin dealer at that time.
The error coin business was later moved from the home to a commercial site in Newbury Park. As the business grew, the printing business evolved due to the difficulty of finding an efficient and reliable printer for the error coin catalogs. John decided he could do it himself better and cheaper. The other tenants in the building came to him for envelopes, letterheads, business cards and fliers. So both the coin business and printing businesses grew and thrived.
Peggy taught John basic computing through her knowledge of word processing. While he was producing his error coin catalogs, The Numismistake, his talent and enjoyment of writing took hold. Not only was he able to incorporate his writing skills into the catalogs, he wrote and published two groundbreaking books entitled, Detecting Counterfeit Coins Book 1 (with a focus on error coins) and Detecting Counterfeit Gold Coins Book 2, the later seeing 19 printings. He also published many error related books and catalogs for the growing number of dealers and collectors in the field.  Probably the most widely known books he published (aside from the ones on counterfeits) were: Paul Marvin and Arnold Margolis', The Design Cud, John Wexler and Tom Miller's, The RPM Book and Wexler's, The Lincoln Cent Doubled Die.  He purchased Error-Variety News from Wexler in the 1980s and published it for a number of years. He also published CONECA's journal, the Errorscope-Gram (later simplified to Errorscope) from the time the club formed until a few years before his retirement.
Heigh Ho Silver Company came into being in the 1970s when Devine and Spellman designed a number of silver art bars. They produced several sexy ones, like "If you can't stand the heat, get out of the kitchen" as well as one on Patty Hearst. Peggy said that John had at least a hundred bars squirreled away all over the place, but she can't find any of them (great hiding places, John).
John enjoyed many things other than coins. The family began camping out weekends in a small trailer. In the mid-1970s he bought their first motor home. Friends and contacts were many in coin collecting, bottle hunting, and metal detecting arenas. They met Marian and Bill Robinson at the Conejo Valley Coin Club. Marian had a metal detector, which interested John immensely, so he bought one.  (He would later become a distributor for White's Metal Detectors.)  They would go camping together at ghost towns or just out into the desert and scratch for "treasure" and bottles. This evolved into treasure hunting stories of these activities included in John's publications, in particular, in Error-Variety News/The Numismistake (later reverting to Error-Variety News).  After his retirement he produced profusely illustrated and well documented travelogues sent to many friends via email that included diverse subjects such as: ghost towns, beautiful desert flowers in full bloom after a rain, stands of Saguaro Cacti silhouetted by glorious desert sunsets, glittering gold nuggets, gold flakes, coins, rings, etc. that he and Peggy found prospecting or detecting and more.
John and Peggy owned several homes in Newbury Park, and over the years they owned significant acreage in a variety of locations in Nevada, (the Boundary Peak area, Quartzite, Imlay and Boulder City), which were their bases for gold prospecting mainly throughout Nevada and California. Eventually they started looking in Pahrump, Nevada where they found their final home together. In sharp contrast to their earlier Nevada homes, it was all fenced in with lots of mature trees. Peggy felt safe there, which hadn't always the case in the more remote locations. Their dog Bandit, is a loud barker, and wards off potential intruders.
Knowing John the best, Peggy is almost positive that if he could leave us a message it would be "to listen and learn from others; read and expand your knowledge of coins, their history, and manufacture. Never stop learning!"
John loved the error hobby and the wonderful group of friends he made, many of which he was still in contact with. He touched many people through his life, some more than others. Peggy said, "When he got interested in something, whether it was a job or a hobby, he never went half way – it was all or nothing."  Recently he'd grown a full beard because he wanted to be Santa for his great grandson, Aiden, this coming Christmas.
We were all blessed to know this man. Be it as a family member, hobbyist or friend, we all gained something special by crossing paths with Lonesome John. Rest in peace, my friend.
L. G. Davenport, Jr. – Error Coin Pioneer
Photo of L.G. taken at the time of the merger of CONE and NECA into CONECA

June 17, 2013 marks the first anniversary of the death of L.G. Davenport, Jr. L.G. was born on March 22, 1927 and died on June 17, 2012 in West Columbia, TX where he was living with his daughter Kristin.  He was the President of the Numismatic Error Collectors of America (NECA) when it combined with the Collectors of Numismatic Errors (CONE) in 1983 to form the Combined Organizations of Numismatic Error Collectors of America (CONECA). He served on CONECA's Interim Board of Directors in 1983 and on the Board of Directors from 1984 to 1986. He was interested in all areas of numismatics and especially loved wrong stock planchet errors.
L.G. was a true pioneer in the error/variety hobby. 
L.G. served in the Merchant Marines during World War II, and was preceded in death by his wife Robbie.
Friends described him as a big hearted man with a Texas drawl who enjoyed sharing his knowledge of error coins.
Comments from friends of L.G.
L.G. and his wife Robbie were our guests numerous times in Newbury Park and we were his guests in Texas. I lost track of him about two years ago when one of my computers died and I could never figure out his e address again. I sent him an email about six months ago but he may not have had email at all. He will be missed.
—John and Peggy Devine
L.G. was one of the "good guys" and was one of the movers and shakers in the error hobby. He loved and researched all segments of this numismatic area and especially loved WSPEs (Wrong Stock Planchet Errors).
—Bill Fivaz|
I remember "LG" from long ago, when I first became interested in errors prior to the merger of NECA and CONE. Being a west-coaster, my early contacts were the Wallace's, Goodman, Devine, Spellman, Blakesley, Rice, Heine, etc. It was the late 1960's to early 1970's when the EAR's [Errorama's] were separate California specialty coin shows long before they merged with ANA shows. I enjoyed listening to the Texas drawl. Good man who had a big heart. We all lost a fine example of an errorist who shared his knowledge with the coin community.
—Ron Fern
I only met L.G. one time and that was at Errorama 1985 or 1986. He had a Canadian 1955 Doubled Die Reverse 25 cent piece that displayed a strong spread on the date and other areas. He knew I was listing Canadian doubled dies so he decided to bring it with him for me to see. He referred to it as his "poor man's 1955 doubled die."  I'll never forget that reference to his coin as it still rings in my ear's like it was yesterday.  Later he sent me a photo of the strongest area of doubling (on the date) and I published it in Canadian Coin News and World Coin News hoping somebody could find another example that I could shoot more photos of.  After those images were published and another specimen came in years later I wrote about it in CCN again and L.G.'s "poor man's doubled die" eventually ended up as a standard listing in the Charlton Standard Catalogue of Canadian Coins meaning that it was no longer a "poor man's doubled die" at all but a highly sought after pricey variety.
While I met him only once, he left me with a lasting impression of genuine friendship from somebody who at that time I felt would have barely known of my existence much less have even bothered to bring something to tickle my fancy. I will cherish that meeting for the rest of my life.
—Ken Potter

1977 NECA Medal Designed by L.G. Davenport This was the year the ANA first
recognized Numismatic Errors as a separate exhibit category. It was also the first NECA
Meeting, Club table and Error Coin Auction (collectively Errorama) held at an ANA Convention.
Instrumental in accomplishing  this feat was L.G. Davenport, Fill Fivaz, Fred Weinberg and the late Arnold Margolis
Arnold Margolis – Error Hobby Pioneer
Memorial
by Fred Weinberg

Image courtesy of Fred Weinberg
Arnie Margolis at FUN 2010
March, 27, 2012 — With the passing of Arnold Margolis, the error coin hobby has lost one of the original pioneers of this segment of coin collecting.  I had the honor and pleasure of knowing Arnie for almost 50 years – and I've always credited Arnie as being one of the three people who encouraged and motivated me to become a coin dealer, which has been my profession for 40 years.
Arnie  was a  former Senior Video Control Engineer for NBC for over 35 years, and was proud of his decades of work there, and his contacts with history, including being on the NBC team that presented the funeral of John F. Kennedy in 1963.
Arnie was a member of the Board of CONE (Collectors of Numismatic Errors), the first major national error club, and was also the first President of its off shoot, NECA (Numismatic Error Collectors of America). His participation in numismatics also included being past President of the Queens Country Coin Club, and of NECOLI (Numismatic Error Collectors of Long Island).
His list of authored books and publications include: How Error Coins Are Made in the U.S. Mints, The Error Collector's handbook,  Mint Errors on Carson City Dollars, The Error Coin Encyclopedia (4 editions), The Numismatic Error Primer, Co-author of The Design Cud, and long-time Publisher of NECA's monthly  Errorscope.
He won awards for his work, and was a member of the NLG (Numismatic Literary Guild).  In addition to numerous award-winning articles about error coins and the Minting Process that have been published in the Numismatist and other coin Publications, he was active in producing error coin seminars for the ANA annual Conventions, and was a judge for the Error Coin category for the ANA and for FUN.
A tireless advocate for education and knowledge in the coin hobby, one of his proudest achievements was the continual publication, since 1968, of ETCM –Error Trends Coin Magazine, which was issued without interruption, till early 2011, when he had to cease writing and publishing ETCM due to health issues. When he first started ETCM in 1968, it was the first commercial Error publication and he made sure each month's issue contained information on the Minting Process, how to reach the marketplace of error collectors, and education of what 'odd' or 'strange' coins collectors found.

Image courtesy of Ken Potter
Margolis at the 1988 Errorama.

Arnie, along with Mort Goodman (deceased) were the face of the error hobby In the 1960's – Mort traveling across the country from Los Angeles , with a large educational exhibit in the trunk of his car, stopping by coin club meetings and making a presentation about the Minting Process and Mint Errors. When he got to New York and finally met Arnie, the two became fast friends, starting Mar-Good, a company that issued the very first coin boards to hold errors.
I had been writing back and forth with Arnie since about 1964, and met him for the first time at the inaugural "Error-A-Rama" coin show – the very first coin show dedicated to Error Coins, at the Hollywood Roosevelt Hotel, in the summer of 1967. Arnie, along with Mort Goodman and Syd Kass, let me help with the convention and show exhibits, and my enthusiasm and knowledge gained from the one coin show led me to a 40-year profession as a coin dealer. At that show, without my knowledge, Arnie had invited my mother to attend the EAR Banquet, where he presented me, as a 17-year old, a special Award as EAR's "Man Friday" for all of the help and time I had given the show. What was on the Plaque, in addition to the words of thanks?  An actual comb – because, it being 1967, my hair was pretty long for a coin collector – and one of the few young numismatists who were so involved in error coins. We joked about that Plaque ever since!
In 1973, Arnie and I were invited by the GSA (General Services Administration) to go up to the West Point Depository (not yet an official US Mint), and examine the numerous Mint Error Carson City Dollars that were found as the coins were being processed and packaged in the GSA Plastic cases. One of the reasons they wanted us to see the errors was because of the back-lash to the 'high pricing' of the Carson City Dollars- and they thought that any publicity about the possible error coin the purchaser would receive, would be helpful.  Arnie wrote articles for Coin World, ETCM, and his own booklet, about our experiences at West Point, and the error coins we were able to examine.
It was my first time in New York, and his hospitality, along with Joan, his beloved wife, left a memory of that trip that has lasted to this day. It was the continuation of a friendship and a relationship that has never ended, to this day.
Arnie was also proud to be one of the sponsors who literally pushed the ANA to recognize error coins in their own category of Exhibits, at the 1977 ANA Convention in Atlanta. That was considered a major milestone in our hobby segment.
For the past three decades or so, Arnie and I were  always in contact – by phone sharing information, asking questions, trying to figure out  'stumpers' of error  coins that we just quite couldn't figure out – as well as buying and selling error coins.
Arnie was 'Arnie' – with his New York 'edge,'  an endearing quality I was always able to see as part of the great  man he was, helping  always with the  truth, his honest view of a situation,  and his only regard for the education  and enlightenment of the collector.
In the past ten years, we had always set up next to each other at the annual FUN shows in January, where we would share memories, stories, and current events of the error coin hobby.  On the bourse floor, at dinner, or just on the phone, you knew you were in contact with one of the great supporters of Coins and Mint Error coins!
Arnie's impact on my life, both professionally and personally, has been great.  In addition to the motivation and education he gave me, he also was one of the first in the business to show me that honesty, integrity, and fellowship are important components of life, in every segment.
Although Arnie had been ill for just over a year, it was still a shock to me to hear of his passing this morning. One of the most important people to be part of most of my life is gone – but someone like Arnie will never be forgotten.  His impact on the numismatic world at large, and specifically in our smaller community of error coins, will be felt forever.
CONECA Treasurer, Jim Checkovich Passes
Extracted from Mark Lighterman's President's Message in March/April 2012 Errorscope

It is with great sadness that I must open my President's message with the announcement of the passing of Jim Checkovich. The CONECA Board was informed of this in late December 2011, but as in many cases when timing is concerned, it was too late to make this announcement in the last  issue of Errorscope. For those members who did not know Jim he held significant positions since 1985 in our organization. Jim first served on the board in charge of the club youth program. He later took over the position of treasurer from Les Burzinski in 1992.
Jim served as treasurer for 20 years and was only the second elected official  in the history of CONECA to hold it. In my years both off and on the board of CONECA, I never heard anything negative from Jim nor had I heard anything negative about him from anyone. The trust in Jim during the years of his tenure on the CONECA board was beyond reproach. I know I speak for the rest of the board in that Jim will be missed. Rest in Peace my friend.
Editors Note: Jim also served an a CONECA Error Coin Examiner for many years and indicated that he derived a great deal of pleasure from helping folks with their coins.
Long-time Error Dealer CONECA Member Allen Levy Passes!

June 22, 2011 — Allan Levy was a specialist in Mint and Currency Errors for over 25 years. His website featured a diverse group of type errors, modern errors and major currency errors as well as regular U.S. and World coins. Allan Levy was a member of CONECA and the American Numismatic Association. He was well known at the major coin shows he attended. He was always friendly to customers and dealers and was happy to discuss the minting process with collectors. He is survived by his wife, Kathi, who continues to collect coins and may attend future shows.
Allan was a major contributor to Mint Error News and put together comprehensive charts documenting auction sales for various mint error types. His hard work and dedication helped Mint Error News grow to be the largest website and magazine for mint errors. He will be greatly missed.
—Submitted by Mike Byers
CONECA History …
Who Was Error-Variety Hobby Pioneer, James G. Johnson?
By Beth Deisher Coin World Editor
6/10/2011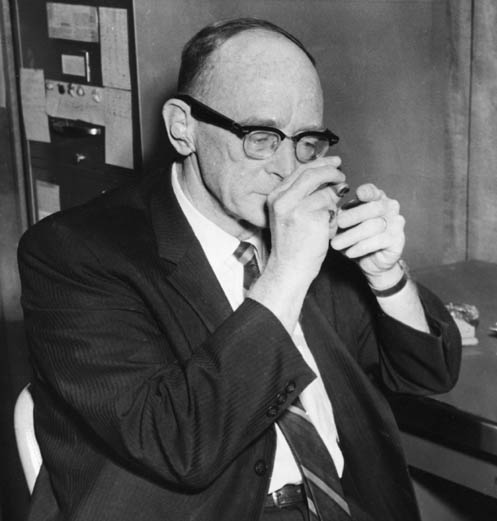 James G. Johnson Jr. joined Coin World as associate editor in the fall of 1960. Various new regular columns were added during the first year, including "Fair to Very Fine" and "Collectors' Clearinghouse," both written by Mr. Johnson, coin collector and former teacher from Colorado. For both columns, readers submitted questions about unusual coins they had found in circulation, many of them errors, die varieties, altered coins and damaged pieces. In studying these finds and reporting on them to readers, Mr. Johnson would become a pioneer in the error coin community. While the level of knowledge about such pieces was well below where it is today, he helped to lead the way to a better understanding of the minting process, what could happen to a coin during minting, and what could not happen. He retired from Coin World in 1974 but continued to write and research for a number of years. At one time he owned an 1894-S dime.
See an old letter to the editor from Fred Weinberg to Coin World on Johnson's passing, and the official CW in-depth obituary for Johnson (provided by Deisher)
Editors Note:  We'd like to thanks Beth Deisher for taking the time from her busy schedule to provide us with this information.  It was prompted by the fact that in CONECA's Constitution we have a type membership described as "J.G.J. Members" of which most folks no longer have any idea of what it represents.  A "J.G.J. Membership was a Young Numismatist (YN), who's membership in CONECA was sponsored and paid for by Jim Johnson.  Fred Weinberg and I decided to revive this form of membership by sponsoring hand-selected YNs and paying their first year's dues at the adult rate (so that the club loses no money) to keep the memory of one of the hobbies true pioneers alive and to bring in new YNs at the same time.  KP
Error specialist James G. Johnson dies
Founding editor of Coin World's Collectors' Clearinghouse
Copyright 1992 by Amos Press, Inc.

James G. Johnson II, founding editor of Coin World's Collectors' Clearinghouse column, died Jan. 3 at age 82 in Columbus, Ohio, after a brief illness.
Mr. Johnson joined the staff of Coin World in November 1960 as an associate editor, six months after the weekly newspaper began publication. He brought with him a background in journalism that included stints as managing editor of a weekly newspaper and sports editor and acting city editor for a small daily newspaper. He also taught journalism classes at several colleges over a period of 15 years; was a high school teacher in New Castle, Colo.; superintendent of schools in Moffat, Colo.; and manager of a minor league baseball team in Norton, Va.
Although he began collecting coins later in life, he would leave his permanent stamp on numismatics through his research, columns and other writings.
Two new columns written by Mr. Johnson were introduced in the Nov. 24, 1960, issue of Coin World: the weekly "Poor to Very Fine," and the occasional "Collectors' Clearinghouse."
"Poor to Very Fine" eventually was renamed "Fair to Very Fine." In explaining his choice of titles in his introductory 1960 column, Mr. Johnson wrote that since the average collection contains coins ranging in those conditions,  "it seems to be an appropriate title" although he hoped the information presented therein would range toward the higher grades. Mr. Johnson eventually published the columns in book form in 1978, titled Fair to Very Fine.
In his first column, Mr. Johnson described the origins of his collecting interest. In the fall of 1949, his son, James, a newspaper carrier in Alliance, Ohio, became interested in some of the coins he received in payment. He asked his father about the coins "and got no intelligent answers since I didn't know, either," Mr. Johnson wrote in his first column. However, he began inquiring about coins and came across an advertisement by Texas coin dealer B. Max Mehl.
After acquiring a copy of R.S. Yeoman's Handbook of United States Coins, Mr. Johnson and his son would examine the younger Johnson's weekly receipts from his newspaper route, often joined by daughter Judi. It was Judi who found a 1914-D Lincoln cent "early in the game," Mr. Johnson wrote.
Mr. Johnson thus joined Coin World with backgrounds in both journalism and numismatics. While his "Poor to Very Fine" column focused on a wide variety of topics, his "Collectors' Clearinghouse column" (which the first few years "I wrote spasmodically," he once noted; it became a weekly full-page column in 1963) focused on numismatic errors. The first Clearinghouse column reported a variety of finds, including different Mint mark sizes on 1942-S Walking Liberty half dollars and coins thought to be errors that are now identified as damaged and altered.
The level of information in the numismatic error field grew greatly during his editorship of  Collectors' Clearinghouse. He brought to the column greater knowledge concerning coinage production and the mishaps that could cause errors during the various processes.
During his editorship of Collectors' Clearinghouse (and companion Numismatic Answering Service, which focused on all areas of numismatics), the columns received 55,244 letters through Dec. 31, 1974, the date of Mr. Johnson's retirement from Coin World. That workload was an average 4,603.7 letters annually, or 396 letters per month.
Edward Fleischmann, who succeeded Mr. Johnson as Clearinghouse editor, noted in a Jan. 22, 1975, column: ". . . His Collectors' Clearinghouse column in Coin World was a teaching aid. He wrote it with only one thought in mind — to teach the reader about coins. Along the way, he taught all of us more about coins and numismatics in general."
Mr. Johnson also wrote numerous news articles for Coin World over the years. He was regularly assigned to cover exhibits at the annual American Numismatic Association convention; his coverage would describe each exhibit in detail. Until early 1963, he also did all proofreading for Coin World advertising.
Although numismatic errors were his primary focus, he also contributed to the hobby's storehouse of knowledge in many other areas. His ownership at one time of an 1894-S Barber dime led him to do extensive research in the pedigrees of the classic U.S. rarity. More recently, he researched varieties of Indian Head cents for a book he was working on.
Mr. Johnson played a number of roles over the years in several numismatic error collector organizations.
He was born March 22, 1909, on Long Island, N.Y. He received a bachelor's degree from the School of Journalism of the University of Minnesota in 1933 and a master's degree from Arizona State in 1941. He at times held memberships in more than 50 local, state, regional and national coin clubs.
He also wrote Avoiding the Editor's Waste Basket.
He is survived by his wife, Inga; two sons, James G. Johnson III and Simon S. Johnson; a daughter, Judi Dow; and six grandchildren and three great-grandchildren.
Services were held Jan. 7 at Cromes Funeral Home in Sidney, Ohio. The family requests that donations be made to the Sidney National Association for the Advancement of Colored People or the American Cancer Society
Copyright 1992 by Amos Press, Inc.
Shirlee Roosmalen Passes

May 15 – 2010 — Shirlee Roosmalen, Len Roosmalen's wife from Len's Coins & Stamps (now Jim's Coins & Stamps), passed away on Monday, May 10, after a long illness. She was 80 years old. For many years Shirlee worked with Len at Len's Coins & Stamps in Hilldale Mall in Madison, WI, and was loved by many. Viewing was today, May 15, at Ryan Funeral Home, 6924 Lake Rd, Deforist, WI.  You may sign the guest book at: http://www.ryanfuneralservice.com. Our condolences and prayers are with the Roosmalen family and friends.
                                                                                                                                                                                                                     Submitted by Jim Essence
CONECA Member, Russ LeBeau Passes

May 17, 2007 — Michael LeBuea has informed the club that his father, CONECA member, Russ LeBeau has passed. He said: "It is with deep regret that I'm informing you of the death of my father Russell E. LeBeau. I know that he really enjoyed collecting his Lincoln cents and die varieties. Please inform everyone through your publication Errorscope. Any Correspondences can be sent to myself at lebeau_mike@hotmail.com or 95 Ironwood Drive, Fuquay-Varina, NC 27526." Russ will be sorely missed by his CONECA friends and the hobby in general!
Florence M. Schook Passes
1917-2006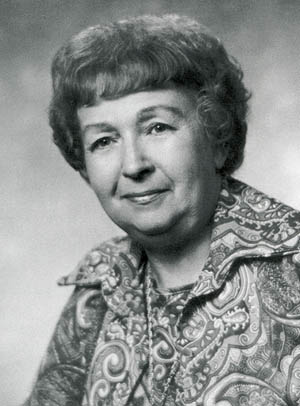 American Numismatic Association Photo
Hobby leader and one-time CONECA member, Florence M. Schook passed away April 2, 2006 at the age of 88.  While most folks knew Florence from her work within the ANA, in particular as the ANA's long-time coordinator of the Young Numismatists Program and as an ANA Governor, past Vice President and President, she was also a past member of CONECA.  During the 1980s she held the position of CONECA Michigan State Representative.  She also made sure that anytime a CONECA member needed a suite for a seminar on error-variety coins at the Michigan State Numismatic Society's conventions that it was arranged for.  Florence was a recipient of the ANA's Farran Zerbe Memorial, Medal of Merit, Outstanding Adult Advisor and Club Representative awards; Numismatic News' Numismatic Ambassador Award; the Great Eastern Numismatic Association's "Woman of the Year" award; and the City of Detroit's Ambassador Award.  She served as President of the Michigan State Numismatic Society in the late 1970s.  She will be missed.
Remembering Dr. Berry
by Neil Osina

Picture of Dr. Berry at Errorama 1971; he took first place at many major shows around the country
August 23, 2005 — How many of you remember Dr. Berry?  Today, his collection of dollar errors resides in the ANA Museum in Colorado Springs, CO. For many years he resisted buying errors, but I got him going. I opened up my store in 1964 and it was a hole in the wall, a tiny place next to an Unemployment office. He owned the building I rented from him which was two doors away from his dental office in 1964-66. He told me I could pay the rent in coins of my own choice. I gave him the wholesale prices. My rent was only $75.00 a month!  He had collected some regular older coins at first. I would continue to show him major error coins which he always played down but within two years he went gung-ho on dollar errors—mostly Ikes.  I helped him appraise his collection before he donated the whole thing to the ANA Museum many years ago.
The reason I told you about my neighbor, the unemployment office, is because my first thoughts were that this would be a great location to buy coins from all those non-working souls who walked past my store. It turned out the opposite. Those guys were taking their benefits and buying up everything I had!  I had borrowed $1500.00 from my parents to open up the store and I was able to repay them within six months of opening!
Also shown here are a few of the papers that survive detailing some of the items he purchased.  All are in his handwriting.  He purchased the Ike dollar proof clip and the 1970-S proof half struck on a quarter planchet (which was originally was sealed inside the original case) from me! The only coins I still own from that collection are the huge Cud cent 1969-S, which originally I bought in the original case, as well as the huge strike- though now labeled as such in an ANACS slab. The design (of this later coin) can be seen inside the incused area, so I suppose the metal that covered the now recessed area was a detached part of the planchet that fell out after being struck, but left a deep-seated design (strike) from metal flowing into the planchet from pressure of die being struck!
Pete "DaNutt" Bishal Passes Away


Photos courtesy of  Ken Potter
Pete "DaNutt" Bishal clowning around at Errorama 1987.
In top image he is acting like he is going to steal coins from a case;
Bill Erdakos in background of second image acts as a surprised
vendor catching the "thief".

Photo courtesy of Greg J. Gullotti
"DaNutt" in one of his calmer moments at the November 2001
Bay State Coin Show in Boston MA.  He shows a slabbed error coin
that looks like the shank of a cap that broke away from the cap face.
Pete "DaNutt" Bishal passed away on the morning of October 12th, 2003. Pete was attending the WESPNEX coin show in New York and died from an apparent heart attack just before leaving his hotel room to set up for the Sunday morning show.
Anybody that knew Pete could easily verify he was "DaNutt", even Pete's business card listed his company name as "DaNutts." Pete was always loud and boisterous, quick with the jokes, and loved a good time.
He and I spent several hours together on Saturday at the show swapping stories and coins. We traded jabs, and even joked about his false teeth. Nothing was off-limits to Pete, he was a happy-go-lucky man. More importantly, he was a genuinely good man.
At the show, late afternoon Saturday, Pete slept at his table with his head in his hand, elbow on top of his display case. The dealer next to him slept with his head back and mouth dropped open. I joked with John Bachman that I wish I had a camera to capture this "classic moment in coins." Now, more than ever, I really do wish I had a camera.
Pete was certainly original and unique. He is credited with coining the name CONECA and was a distinguished researcher of Morgan Dollars. I for one, will always remember Pete and rest assured, the Lord is going to be enjoying Pete's company.

—Frank Leone
I will miss Pete, in an ocean of coin dealers he stood WAY out!
—Greg J. Gullotti
Pete was a good friend and dedicated error researcher and dealer.  We spent hours together at conventions and on the phone off and on for nearly two decades!  He will be missed!
—Ken Potter
… his knowledge of the minting process was exceptional and his antics were always good natured. He will be missed.
—James Wiles